What is Peridontal Disease?
Periodontal disease affects the gums, bone and other supporting tissues of the teeth. Although most individuals suffer gum inflammation from time to time, around 10% of the population appear to suffer from the more severe forms of the disease which cause loss of supporting bone. This group appears to be at greatest risk of losing teeth through periodontal disease. It is caused by the bacteria which regularly collect on the teeth.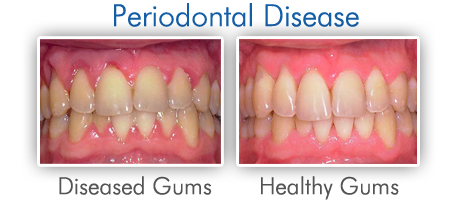 Why do some people suffer from this problem and not others?
Around 10% of the population is susceptible. Our knowledge is improving all the time of why this is, although 3 major factors are thought to be responsible. Family history, stress and smoking are all important risk factors. Stopping smoking is an important part of reducing the risk of developing the disease. Certain general diseases such as diabetes may also make an individual more susceptible.
How do I know if I have the disease?
The signs and symptoms of periodontal disease vary significantly but may include gums that bleed when brushing, together with signs of more advanced disease such as movement or drifting of the teeth. However, it is possible to have the disease and not be aware of these signs. It is essential to see your dentist regularly so that special assessment techniques, sometimes including x-rays, can be carried out as part of your routine dental examinations.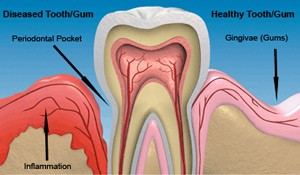 What should I do if I think I might have the disease?
Regular examinations by your dentist will ensure that the right diagnosis is made. Your dentist will be able to advise you about any necessary treatment.
This will often include specific oral hygiene methods to help you control the bacteria that collect on your teeth. There may also be a need to carry out some professional cleaning of your teeth. Most cases of periodontal disease can be successfully treated by your Dentist and Hygienist using methods such as these.
Occasionally, more complex treatments are required and your dentist will advise you accordingly.